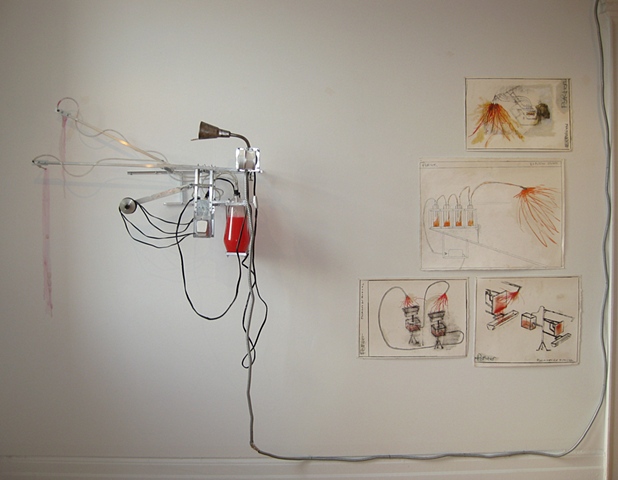 Welcome to the website of the Chicago based kinetic sculptor
Mark Porter
Recent Reviews and News:
Translator in Brazil: Translator
Recent kinetic sculpture Translator will be included in
Gambiólogos 2.0, Museu dos Brinquedos, located in Belo Horizonte, Brazil, June-July


Order your own custom Autohemorrhaging Actuator Drawing on PorterKinetics Esty:
https://www.etsy.com/listing/154913550/custom-autohaemorrhaging-actuator
Order one today!
Review of Autohemorrhaging Actuator in Hyperallergic:
http://hyperallergic.com/68063/carrying-on-a-political-absurdist-legacy/
Autohemorrhaging Actuator, a recent interactive, kinetic installation will be included in Rube Goldberg's Ghost: Confounding Design and Laborious Objects, curated by Elizabeth Burke-Dain in the Glass Curtain Gallery, Chicago, IL. Opening reception on Thursday Feb 28, 5-7pm. For more information visit: www.colum.edu/deps
Autohemorrhaging Actuator:
I have an upcoming solo exhibition at the Mission gallery in chicago in the project space known as the Sub-Mission. The exhibit will be titled Autohemorrhaging Actuator and will run from November 9-December 22, 2012. This exhibit will be my site-specific sculpture.
For more information: http://themissionprojects.com/thesubmission/
Machinations exhibition:
I recently curated and exhibition titled Machinations: Kinetic Sculpture in the Age of Open-source for the Glass Curtain Gallery It features works by Pencil Studios (Sabrina Raaf and Travis Saul), Jeremy Boyle, Paul Catanese, Theo Jansen, Taylor Hokanson, Stephen Cartwright, Chris Reilly and others and runs from September 6- November 3, 2012
For more information:http://www.colum.edu/Student_Life/DEPS/glass-curtain-gallery
Two upcoming 2012 solo exhibitions in Chicago:
Autohemorrhaging Actuators (solo), Peanut Gallery, Chicago, June 10-July 3, 2012
Peanut Gallery website: http://peanutgallerychicago.com/
Territorial Markers (solo), Sub-Mission, Chicago, November 9-December 22, 2012
The Sub-Mission website: http://themissionprojects.com/thesubmission/
Reviews of recent solo exhibition Territorial Markers at Fill In the Blank Gallery:
New City review by Jason Foumberg:
http://art.newcity.com/2010/12/06/art-break-machines-like-you/#more-6947
Monday Morning Quarterback review:
http://www.chicagonow.com/blogs/art-talk-chicago/2010/11/monday-morning-quarterback-friday-115.html
Rated in the top 5 weekend picks by Bad at Sports:
http://badatsports.com/2010/top-5-weekend-picks-115-116/
Replication Machines, Territorial Markers and Preliminary Drawings Book:
A new book titled Replication Machines, Territorial Markers and Preliminary Drawings is available for purchase through Blurb. The book features full color photos of recent works on thick paper with a matte finish and an interview with the artist conducted by artist and curator Chelsea Goodwin.
The book can be ordered by going to the following link:
http://www.blurb.com/bookstore/detail/1636629


Upcoming:
Solo Exhibition, Territorial Markers: Recent Drawing Machines by Mark Porter, Fill In the Blank Gallery, November 5- December 5, 2010, Reception November 5, 7-9pm
http://www.fillintheblankgallery.com/


Fusing found objects and his own custom-made creations, Mark Porter produces one-of-a-kind pieces that gradually transform themselves — and the gallery — as the show progresses. The mechanical-drawings-turned-sculptures in Nurture/Alter mimic the irregularity of human actions and portray narratives through a series of projected images, videos, and fluid expulsions. Porter places his project blueprints next to the sculptures to aid in the understanding of their development, which continues free of his influence for the duration of the exhibition. Check out the show sooner than later, though, so you can observe the counterproductive movements of Porter's work before it slowly self-destructs.
Morgan Phelps
Flavorpill, Chicago


Recent Exhibitions
Solo Exhibition: Replication Machines, Territorial Markers and Preliminary Drawings, Spoke, Chicago, August 2-13, Reception Aug 6, 7-9pm, 2010
http://www.SpokeChicago.blogspot.com/
Stop, Start, Repeat. Anton Art Center, April-June
Solo Exhibition in The Front, New Orleans,
Replication Machines, Territorial Markers, and Preliminary Drawings
http://www.nolafront.org/pages/newsmain.htm
Mutations, Douglas Park Fieldhouse, Chicago
http://www.artslant.com/global/articles/show/7541
Olfaction, Dunham,UK August, 2009
Artists Run Chicago, Hyde Park Art Center, Hyde Park, IL ,July 09
Prototype, MiniDutch Gallery, Chicago, Jan, 09
Recent Solo Exhibit: Nurture/Alter
Northeastern Illinois University Fine Arts Center Gallery, Oct 08